Services
We're here to help your business grow – in a few easy steps.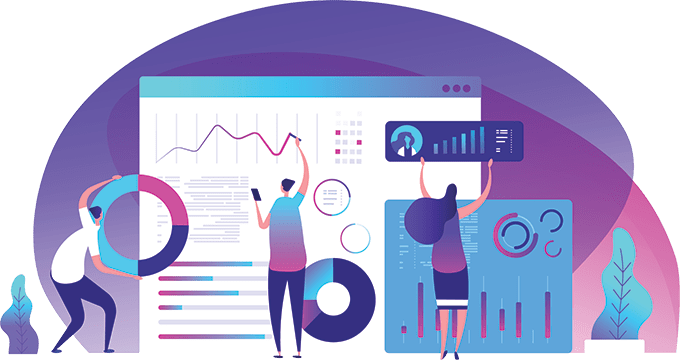 SEO contributes to promoting your site content and building an audience, which means more traffic, more customers, and more sales.
How it works
Step 1: We say hello and learn about each other.
Search engine optimization highlights the benefits of your products and services, increasing brand recognition and growing your sales. First, we gain a deep understanding of your business and your audience, analyzing your online presence. Reaching and converting new clients, using a thorough site analysis customized just for you – our primary goal.
Step 2: We create your tailored SEO strategy.
Increasing audience engagement is no easy task, demanding investing both time and efforts. In order to create a successful search engine optimization strategy, we'll work with your staff, getting in touch regularly, and address you with a tailored strategy related to your business objectives.
Step 3: We get to work and result in conversions.
Ultimately, we get down to business to convert more leads, boost brand awareness, and drive desired traffic to your website. We'll report at the beginning of each month so you might measure the success and see the biggest return on investment.
Your partner in digital marketing and SEO
We'll cooperate with your brand and your business goals – a successful and beneficial partnership.
Local and international companies
How SEMANTICA helps
We'll collaborate to determine your goals, and we'll develop a plan of action together to make sure your business thrives and grows successfully online, and you see value from SEMANTICA.
We offer a full suite of consulting and technical services to ensure you boost your results with SEMANTICA.
Our services team is always ready to help people who intend to hit their business goals fast enough and designs a customized plan related to achieving your goals. When you work with a SEMANTICA expert, you can be sure that your goals are the primary objective, you're on the right way, and that you'll see results quickly.
We do our best to guarantee you succeed and hit your goals with SEMANTICA. We invest in every service we offer: each one includes time with qualified SEMANTICA experts who carry out their work following our SEO methodology.
Since our founding as an SEO service company, SEMANTICA has led constant innovation in digital marketing, sales, and service. Our services share that expertise with you, to help you achieve the objectives and ensure your business is prosperous.
We're committed to resolving customer issues and delivering an experience that converts customers into promoters.
The motto of SEMANTICA is SEO for everyone. We want to make sure everyone ranks in the search engines. Our SEO services might enable both large companies as well as small websites to attract the desired traffic.
In today's search landscape, there are many considerations to make when growing your business confidently online. Having an integrated digital marketing strategy means:
SEARCH ENGINE OPTIMIZATION
You are utilizing multiple channels (like SEO, content marketing) to market your website. By utilizing technical SEO & content strategies, you can increase your site's organic traffic through keyword rankings that matter, using industry best practices to produce sustainable SEO gains.
We are helping businesses grow better every day. Encouraging self-improvement is at the heart of everything we do at SEMANTICA – from allowing everyone to rank in the search engines to enabling both large companies as well as small websites to attract the traffic they desire.
You are guided by at least three multi-professional team members (seven – for complex projects) as part of the work towards the objective. This approach allows us to split tasks and provide effective solutions.
Our studio achieves tangible results in whatever area you choose: from medical centers to beauty salons. We make your website rank better in the search results, generate quality content, and optimize the technical part.
Here's how online prospects become your loyal customers
Drive more traffic to your website
If SEO is blended with link-building strategy and purposeful content writing, generating audience loyalty for years to come is a realistic and achievable goal.
Boost your brand uniqueness
Unique and epic content that stands you out from competitors and is SEO-optimized increases your domain authority and drives relevant traffic.
PAID PROMOTION ON SOCIAL MEDIA
Draw your ideal customer
Raise brand awareness and bring in clients while we do wonders to outperform our goals, converting more leads and connecting with your audience.
Always and forever
Let's outline our approved plan for harnessing the power of SEO – while you can monitor tangible, trackable results in your account 24/7.
Grow a business with SEO
Get more traffic to your website with SEO. Our SEO services are designed to help businesses get visibility, optimize marketing costs, and differentiate their brand online.
Our team targets a niche and identifies the efforts that would be necessary to achieve your requirements.
Your website is updated to load faster and keep your prospects engaged.
We take an in-depth look and implement powerful SEO techniques to drive tons of traffic to your website.
External efforts are placed to build links and connect with the right channels.
The SEO process is ongoing; we are detecting any technical errors and make positive improvements.
We convey a positive image of your company, increasing search traffic.
Why us
1. We help companies accurately track their advertising results.
2. We ensure you get more leads and sales from the web.
3. We make sure your business excels.
4. We do quality work with timely results.
5. Together we share success and maintain long-term results.
Customer support
SEMANTICA's customer service and support teams are always ready to help your growing business succeed – qualitatively and in a few easy steps.
Get technical help from our friendly and qualified customer support team as soon as you need it. Contact us over the phone or through email to receive a reply fast so you can get back to what's major – closing deals, serving your customers, and growing your business.
Want quality SEO? Here's what's going to happen next
After you get in touch with SEMANTICA our managers will process the request as soon as possible, then reach you to plan our first call/meeting.
Getting to know each other
We shake hands, have a friendly conversation full of relevant and necessary questions so we might get acquainted, learn about your primary business goals and objectives.
Then we enter into the study and analysis phase. Our professional team has an in-depth look at your company processes to obtain the information we need to provide a customized plan that draws consumers towards your offering.
Ultimately, we create a tailored strategy for your specific business objectives, including a detailed schedule, a list of intended activities, and all the indicators we'll track progress with within our cooperation.
---
If you're ready to raise your brand awareness and bring in customers, contact us!